What is Project Charter ?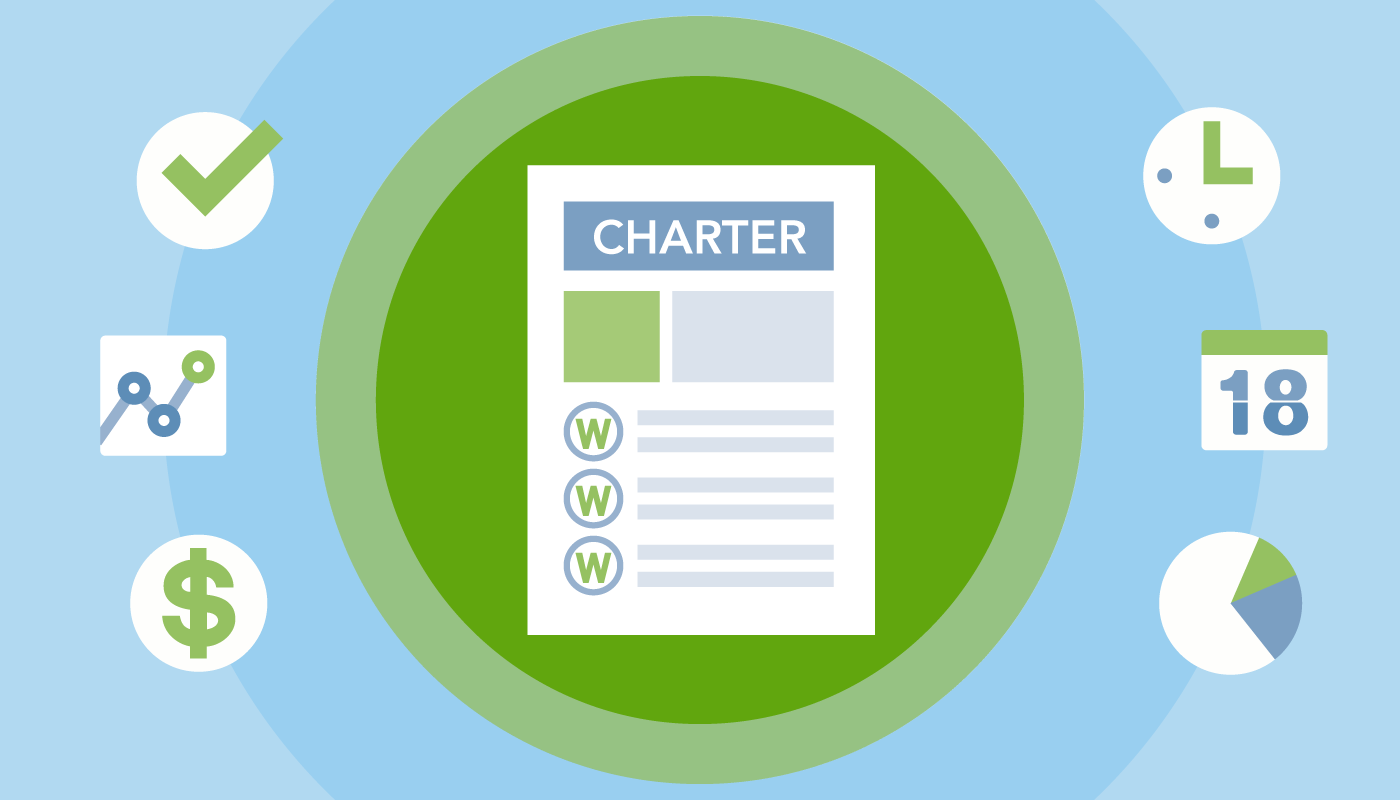 A project charter is the statement of scope, objectives, and people who are participating in a project. It begins the process of defining the roles and responsibilities of those participants and outlines the objectives and goals of the project. The charter also identifies the main stakeholders and defines the authority of the project manager.
What should a Project Charter outline?
What is the essence of the project? What are the goals and objectives of the project? How are you planning to reach and achieve these goals and objectives?
Provide a shared understanding of the project. The charter should communicate its value and/or reason for existence to every person who has a part in it, from the team to the project manager, stakeholders, sponsors, etc.
Act as a contract between the project sponsor, key stakeholders, and the project team. By noting the responsibilities of each party involved in the project, everyone is clear what their duties are.
What Are the Uses of A Project Charter?
There are a lot of documents necessary to run a project. Before you even get started there are many you have to create, from a project plan to a project budget and more. All these documents delve into detail on the items you've broadly stroked out in your project statement. So, why do you need another document, isn't it redundant?
While it's true you're going to cover this ground on a granular level, this is your first pass, and there's a reason it's more general and comes before everything else. The following are three main uses of the document:
You need it to authorize your project. This is the document that sells the project to your stakeholders and defines broadly what their return on investment will be. It's like an elevator pitch, so it has to sell the project.
It serves as a primary sales document. When you present this to the stakeholders they now have a summary to distribute or present when approached about other projects, so they can focus their resources where they're needed.
This is a document that stays with you throughout the life cycle of the project. You will be referring to it throughout, whether at meetings or to assist with scope management. The charter acts as a roadmap without all the minutia to distract you from other project materials.
Tips on Writing a Project Management Charter
There's a process for writing a project charter, which starts with knowing what is the vision of the project. That vision statement can't be vague, but must capture the purpose of your project, defining the end goal for the project team.
Step 1: Vision
Once you have the vision clear, then you can break it down into more practical bits.
Objective. List three to five objectives of the project, be SMART: specific, measurable, achievable, realistic and time-bound.
Scope. Now outline the formal boundaries of the project by describing how the business may change or alter by delivery of your project, also note what's relevant to the project and what is not. This is how you maintain better control of the project.
Deliverables. Describe each of the deliverables the project is tasked to produce. Once you've gotten all of them down, you've got a foothold on your charter and are ready to move on.
Step 2: Organize
When you're building a structure for your charter there are four subsets you're going to need to identify. This is done by listing the following:
Customers/End Users. To complete this list, ask yourself: What is a customer and/or end-user in the context of this project? Who are the project customers? Is there a specific individual or entity responsible for accepting the deliverables of the project?
Stakeholders. As noted earlier, identifying the stakeholders of the project is crucial. They are the person or entity within or outside of the project with a specific key interest in that project. It might be a financial controller overseeing costs or the CEO, but whoever it is they'll have a slightly different focus depending on their role.
Roles. You need to assign the key roles and responsibilities to those involved in delivering the project, from the project sponsor, project board and project manager. After each entry writes a short summary defining their role and what their responsibilities are in the project.
Structure. Now you need to define the lines of reporting between these various roles in the project. Use a project organization chart to do this. It diagrams the structure of an organization and the relationships and roles of those involved in the project.
Step 3: Implementation
You have a vision and have organized the various parts of your project. Now you have to develop a plan to implement them. There are four parts to this:
Plan. If you're going to implement it, then you need an implementation plan. This is a way to develop an atmosphere of confidence for your customers and stakeholders by listing the phases, activities, and timeframes of the project's life cycle. Gantt charts are the traditional planning tool for projects. They turn your tasks and deadlines into visual timelines. ProjectManager.com has an online Gantt chart that lets you assign tasks, track progress in real-time, drag and drop due dates, create phases, make dependencies and more.
Milestones. Milestones mark major phases in the project and collect smaller tasks into bigger chunks of work. The project should only have a few of them, that's why they're milestones, but they are an important way to acknowledge the completion of a key deliverable.
Dependencies. List all key dependencies and what their importance is to the project. These are tasks or activities that are linked to one another, as they will impact the project during its life cycle.
Resource Plan. What resources are involved in the project? Break down this list into labor, equipment, and materials. This is how you'll know what you need before you need it, and you'll be able to estimate your budget more accurately. As the project progresses, and changes are introduced, you'll need to adapt your resource plan. ProjectManager.com features workload and resource management tools that let you quickly see everyone's workload, so you can reassign tasks as necessary. This keeps everyone from being over or underworked.
Step 4: Risks, Issues & Budget
We're almost done, but no charter is complete without collecting the potential risks and issues that can derail a project. This includes assumptions and constraints related to the project.
A risk is a potential issue that may or may not happen in a project. Risk is not always negative, as there is such a thing as positive risk, and you should prepare for that as well.
An issue is something that has already occurred in the project. Basically, the risk is future tense and an issue is a present tense, but you have to be prepared for any and all eventualities when creating a project management charter.
Finally, with all the above information, you can sketch out a rough figure on how much it will cost to deliver the project within the timeframe you're allowed. Then you present your charter, and once it's approved and signed, the real work begins.